Early Talent Engagement
Make a First Impression
Early career candidates have endless opportunities. Ensure they get a sample of your organization's employee experience and choose you.
Some of our happy customers
Your employer brand relevance is necessary to attract talent
Go beyond Early Talent Hiring
Showcase Your Employee Experience
Job selection criteria and preferences are changing — the organization must have a purpose, the products must support sustainable values and the work culture must support new forms of work.
Interaction Matters
Demola helps your organizations to deliver experiences and showcase your competitive advantage in the labor market through actions and meaningful interaction.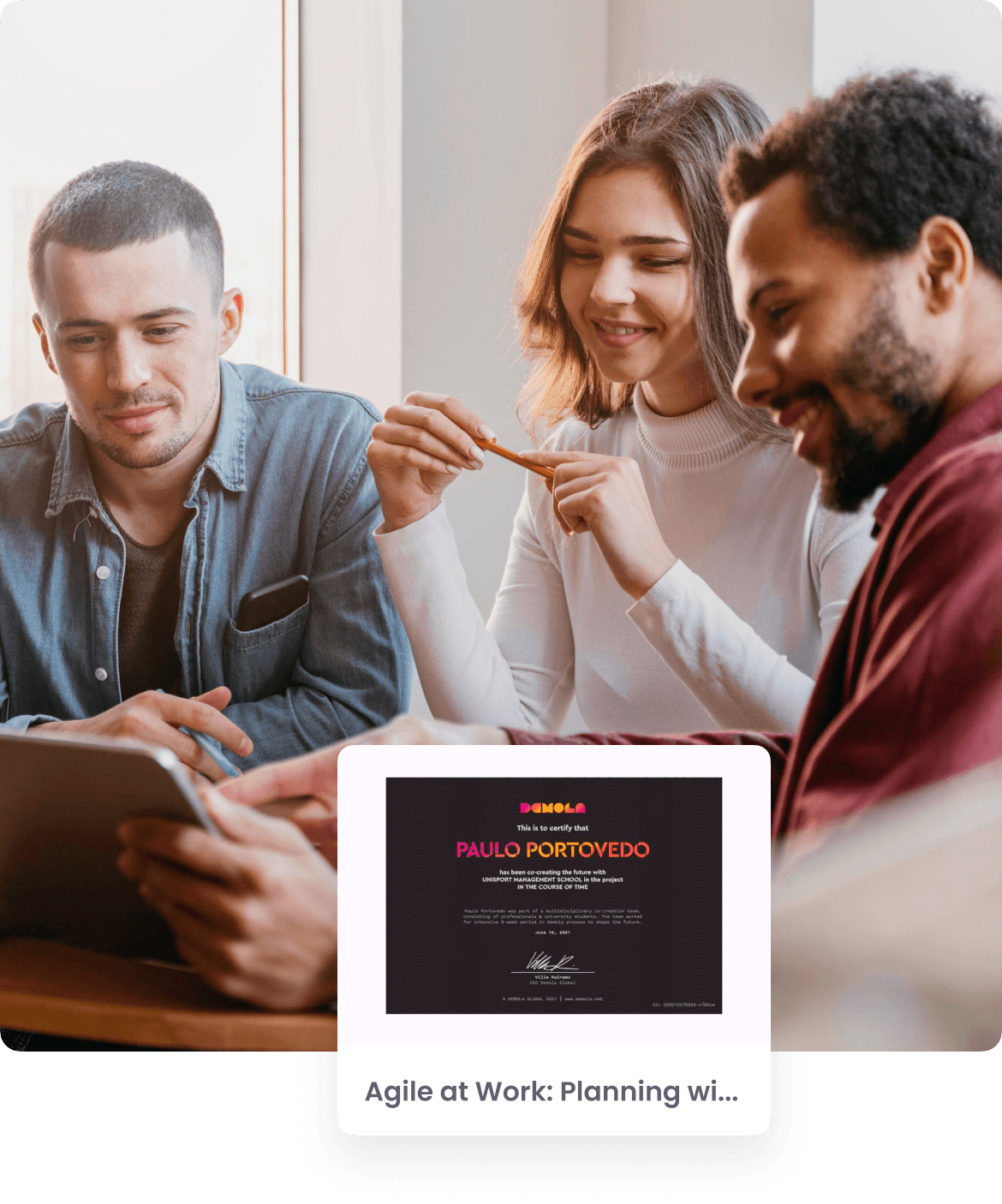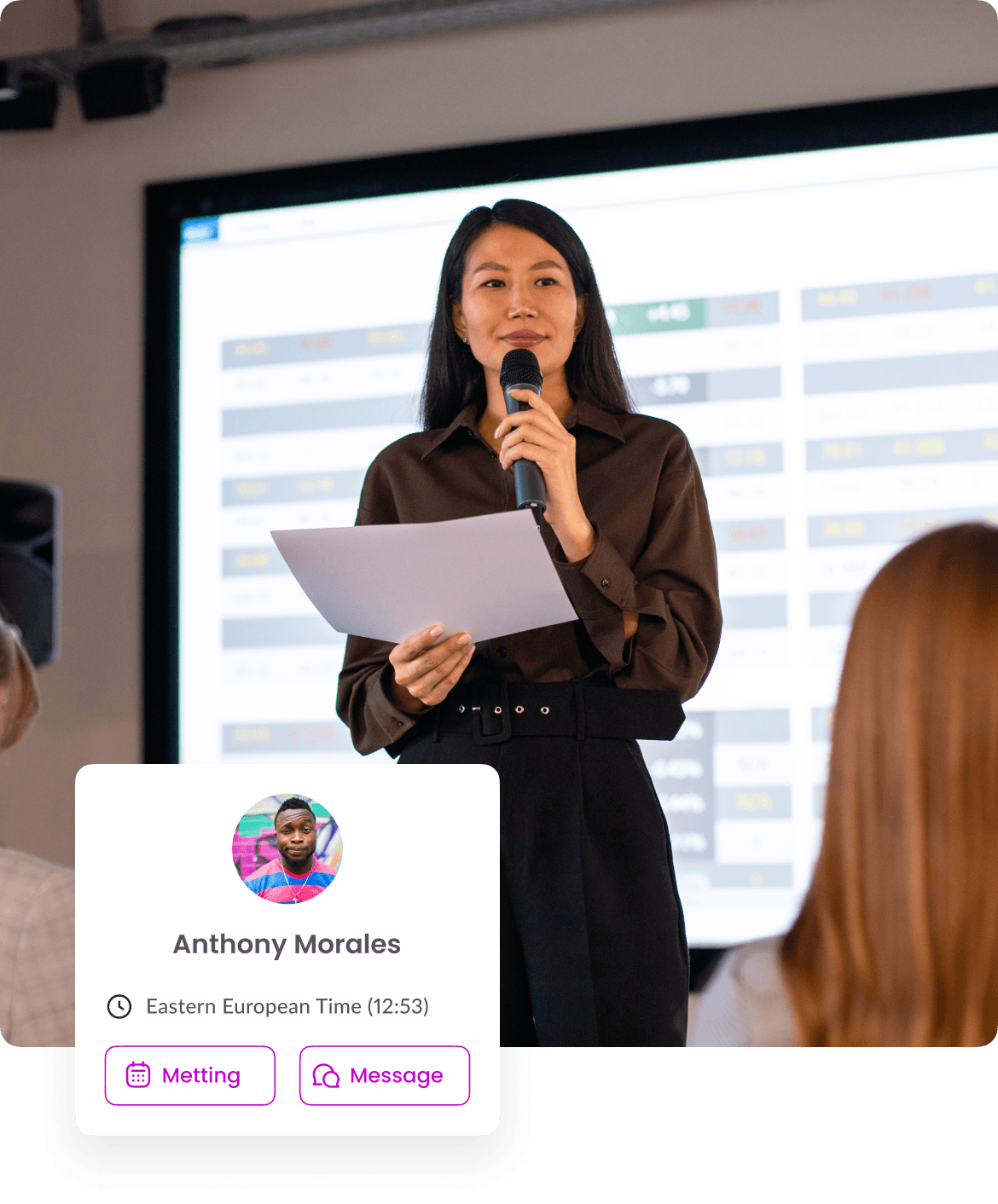 The Power of Collaboration
Project Work Unveils Skills and Talent
Discover the hidden potential of job candidates through collaborative project work. You have several possibilities and forums for interaction with student teams — from thematic webinars to on-campus innovation events in Demola Hub locations.
Tampere
Lisbon
Tokyo
Helsinki
Sapporo
Windhoek
Budapest
Unique source of future insights
You see tomorrow's decision maker in today's student
Innovative companies seek out emerging trends through curiosity, exploring weak signals and anomalies. Investing in students cultivates potential for a competitive edge, tapping into new sources of innovation and securing a place as a future industry leader.
Voice of the future
We help the organization to utilize and listen to young talent's vision of the future.
Solutions for Companies
Cultivate meaningful connections with promising early talent across various fields
Campus connect
Early talent interaction
Partnering with Demola help you connect with university students and early career professionals, build awareness about your company, and cultivate a talent pipeline for future growth. Our interactive events, co-creation opportunities, and social responsibility initiatives provide a unique platform for showcasing your employer brand and engaging with promising talent.
Reverse recruitment
Early talent engagement
Our engagement solutions help you to attract early talent through reverse recruitment and engagement strategies. We offer a vast pool of talented individuals who have proven their skills through real-world innovation projects. Showcase your employer brand and company culture while engaging with potential employees to identify the most motivated and committed talent.
Voice of lead-users
Future Insights
Future generations of experts and leaders will lead us to the origins of change. We help your organisation to interact, listen, and learn from younger generations. With our tools for insight curation and analysis, you can streamline your learning process and gain actionable insights for future shaping, scenario building, and vision creation.
Investing in Tomorrow's Leaders
The Demola innovation project showcases students' work and develop the in-demand skills of modern hybrid work. By participating in this project, students' performance, motivation, and creativity become visible to potential employers. We bring your organization and the most promising candidates to an inspiring co-creation community.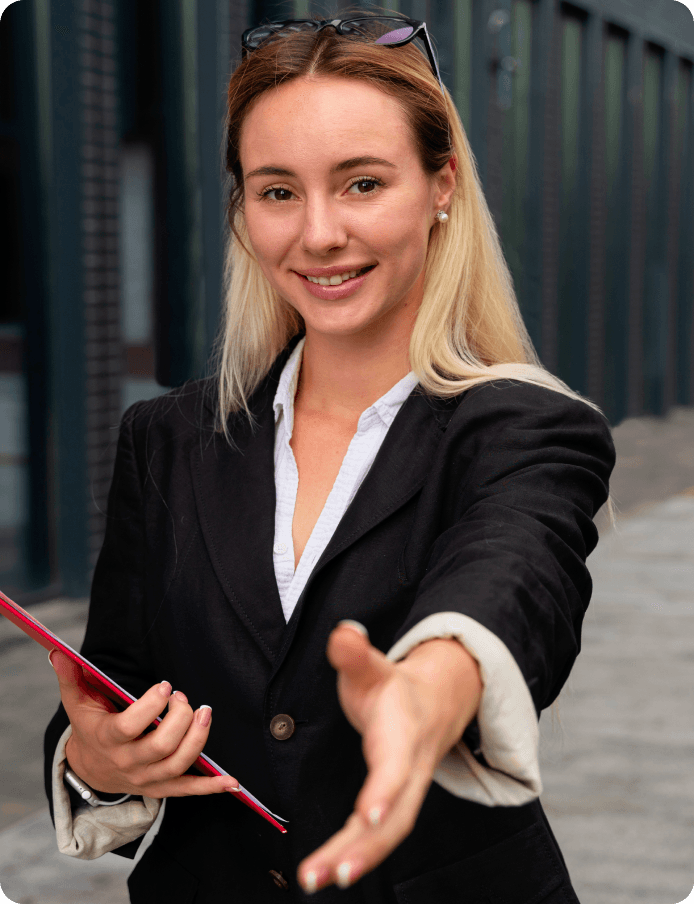 Connect with Top Talent Across the Globe
With Demola, companies can tap into a vast community of early talent from every corner of the world. Collaborating on project work provides a unique opportunity for candidates to showcase their abilities and for companies to discover the most promising young innovators.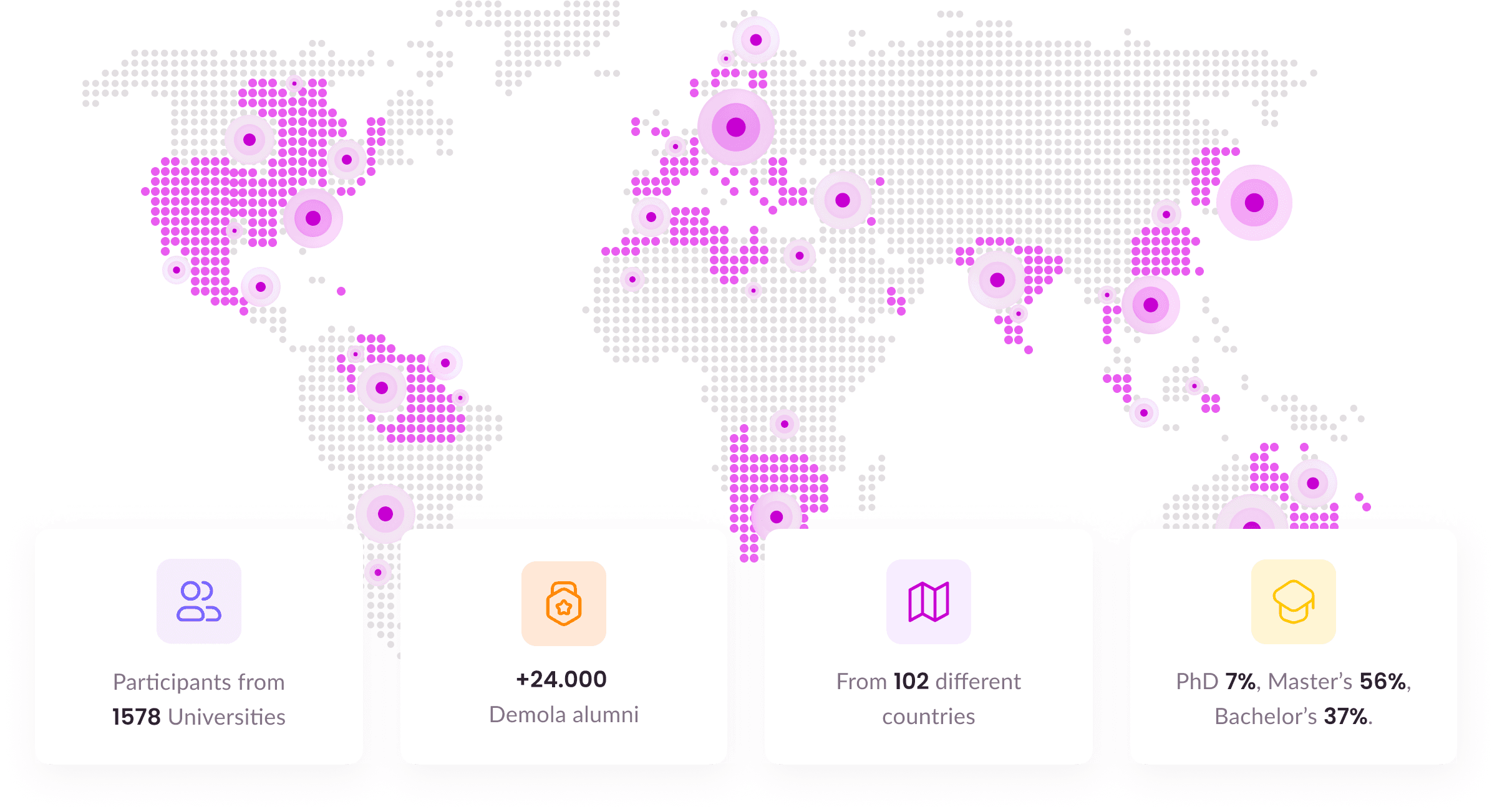 Partner with us and unlock innovation
Partnership Opportunities
Start with Hub Partnership
Are you tired of using cheap marketing tricks to build your attractiveness as an employer? Instead, show your commitment to early talent and their skills with real actions. Hub Partnership provides an easy way to join Demola activities in your home field, or to build awareness among early talent in new university cities.
Hub Partnership includes:
Event Participation
Partner brand visibility
Access to insight collections
Partner input to thematic selection
Candidate recommendations
1-to-1 meetings with selected teams
Download Hub Partnership fact sheet 
Discover the power of collaboration
Janne Parkkila
CEO at Orkestr.io
Excellent

2021
"We live in our own expert bubble, and we have perceptions and beliefs that can also be false. The gap between these could be huge. Through teamwork, we learned to see our own blind spots and better understand the perspective of the average end-user."

Istvàn Pàl
CEO at EnergoFish
Excellent

2021
"Unbiased feedback for our thoughts. This work revealed us to think and removed the stress and pressure to create business value or benefits. If this had not been an open innovation project like this, we would never have received such insights but instead our gaze would have been narrower, and we would have only looked to the near future."
Business Partnership
Become a Demola Business partner and accelerate your Early Talent Engagement at global scale.
Contact us