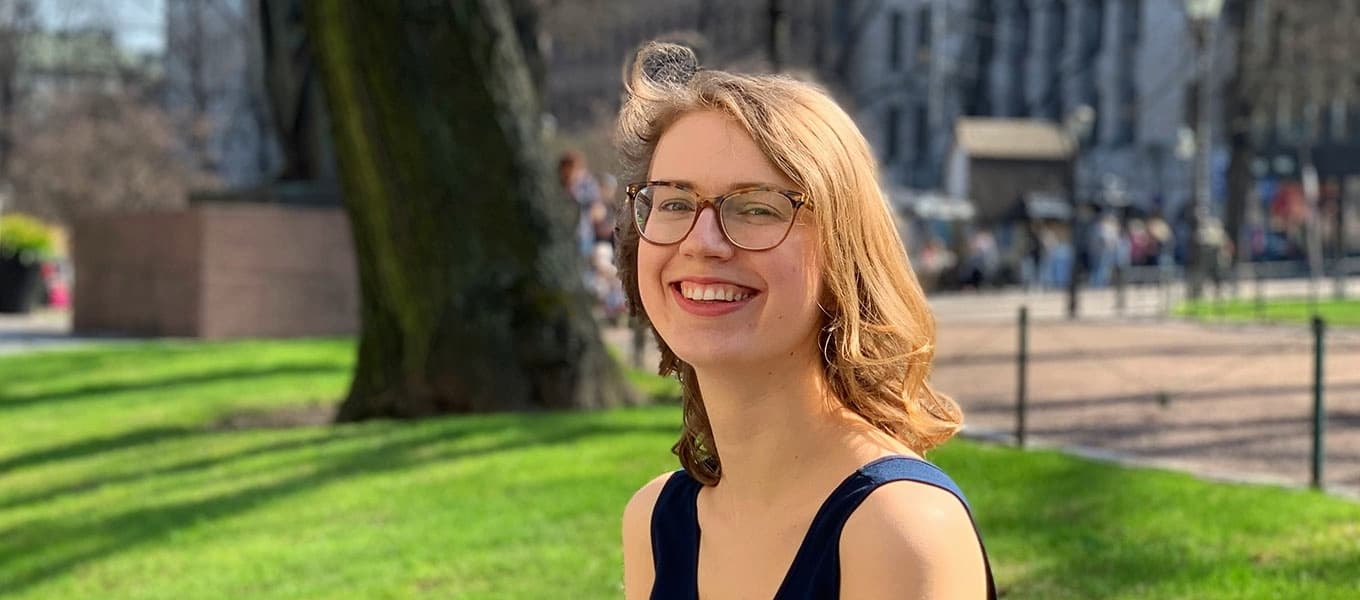 Slava Baranovskiy
My Demola Journey: Professional Development and New Contacts
Thousands of students from all over the world have participated in Demola over the years. What is so fascinating about Demola that brought Belarusian Volha there for three times?

My name is Volha Furs and I came to Finland four years ago to do my Master's in Media Management at the University of Tampere. 
It was a new country and discipline loaded with a lot of theory. I had no experience in media management and I am a learning-by-doing person, therefore I was eagerly looking for opportunities to gain practical knowledge, as well as meet interesting and active people.
That's what brought me to Demola where I did three innovation challenges during 1,5 years. I enjoyed doing projects in Demola so much that picked Demola as a case study to write my master's thesis about! In this article, I'd like to share my Demola journey and highlight the main benefits of participating in Demola.
Opportunity to work with real companies 

In comparison to student assignments and projects, it was much more exciting to work on cases that meant to bring real value to the company. Participating in Demola gives a taste of how working with Finnish companies looks like. Moreover, I picked the projects that fall into the area of my interests, so I filled my portfolio with interesting and collaborative projects that were done with real organizations.
Demola is a great opportunity to try different hats and strengthen your skills in teamwork.
Professional development 

For those who are just about to start their career or explore a new field, Demola is a great opportunity to try different hats, strengthen their skills in teamwork and time management, and practice can-do attitude. I would say Demola is a safe environment to explore yourself, push your limits and experiment. 
Clear timeframe of a project cycle
Demola project has a clear and tight timeframe that has been polished over the years to help students go through critical points and move forward with the project. The whole journey through different project stages is a fascinating experience: one should be open to explore, ideate, argue, and collaborate. Every team has a facilitator who lends a hand whenever frustration or dullness falls on the team members' shoulders.
Inspiring and diverse social environment

For those 1,5 years, Demola was the place where I felt like life is vibrating and evolving in all directions. At the university, course group work does not require multidisciplinary approach or much cooperation with students from other disciplines. Demola is all about development, collaboration, exploration, and enthusiasm: the project cycle in Demola is filled with events where all teams work together, discuss their cases and get feedback on their work.
Motivation is the key
Personal attitude makes a huge difference in the quality of the project outcomes and project workflow. The participants are selected based on the balance between their experience and motivation: the stronger the desire to learn, contribute and test multiple ideas, the easier it is for the participants to advance their knowledge and skills. This has a direct influence on the quality of the results and participants' confidence in pitching their solution to different stakeholders.
Friendly and supportive atmosphere
All the teams in Demola experienced their ups and downs at different stages of their project. Demola encourages the participants to be open, support each other, mingle and share their knowledge. The facilitators were super cool and supportive guys who were ready to listen, share the pain or just cheer up at the end of a difficult day. They were always there for us – active and persuasive Demola students who were in the darkness searching for a bright but simple idea or solution. 
All in all, Demola was a big milestone in terms of professional growth and personal development. In addition, Demola also helped me with building up my social circle and introduced me to the Finnish working culture: I learnt a lot about the country, made good friends and got my first step into the local start-up scene. 
See all stories
Basic information
Type
Articles
Date of publication
28/05/2019
Created by
Volha Furs
Sharing is caring!
Share this event with anyone you think would be interested.