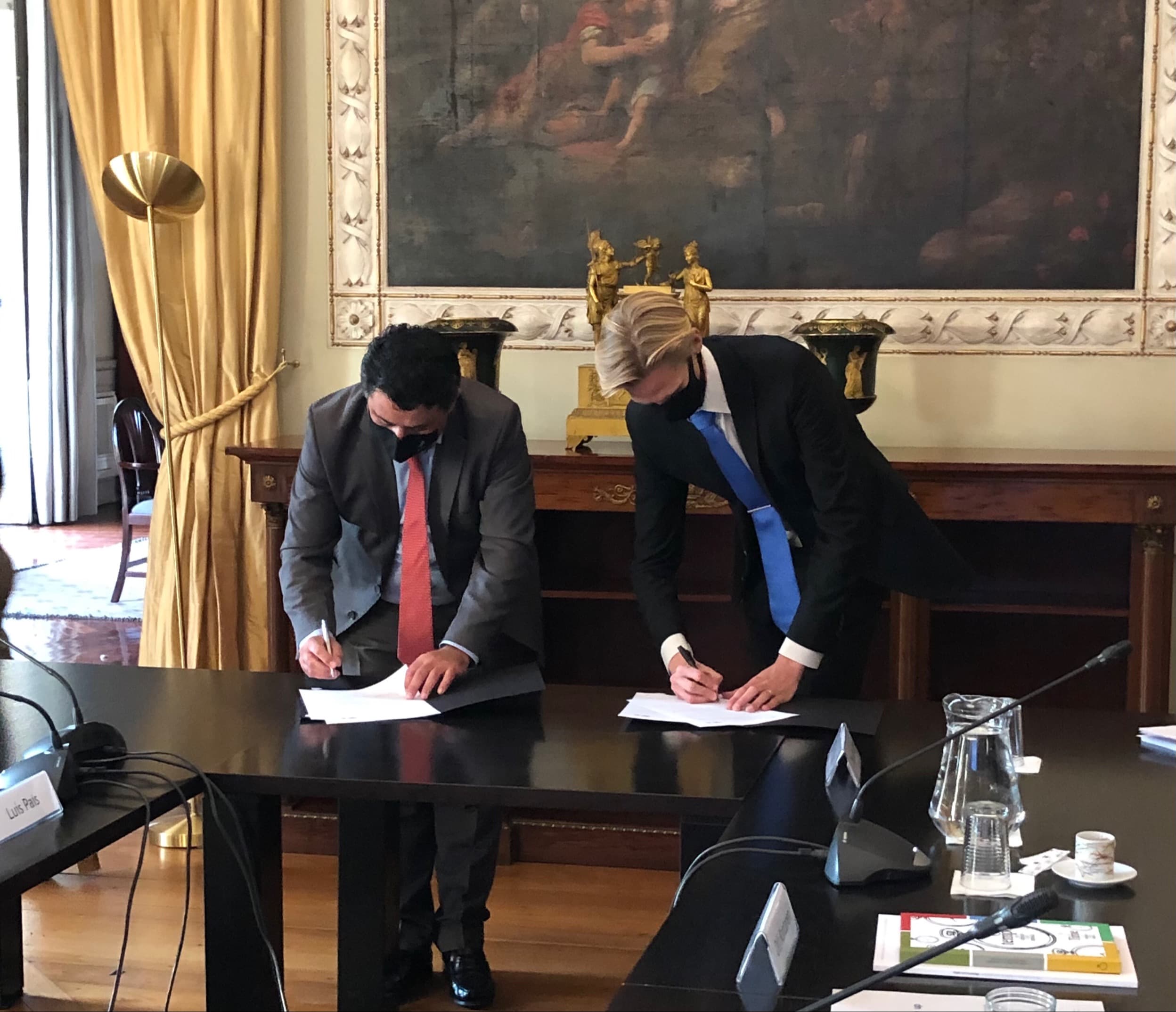 Portugal implements modern co-creation methodology in cooperation with Demola Global
Portuguese Polytechnic Institutions and Finnish Demola Global have launched a program that will increase Portugal's capacity for innovation and renewal. 

Demola Portugal launch event on Wednesday, 22nd of September at the Embassy of Finland in Lisbon. From left to right: Minister Manuel Heitor, Pedro Dominguinhos, Ville Kairamo and Minister Ville Skinnari


In the first phase of the program (during 2021-2023), 900 polytechnic teachers, 600 companies from Portugal and internationally and around 5,000 students from Portuguese polytechnics and international institutions will be brought together by facilitating multidisciplinary co-creation teams. In these co-creation teams, companies and students will create future insights, concepts, and seeds for new innovations. 

Manuel Heitor, Portuguese Minister for Science, Technology and Higher Education refers to this initiative as "a very relevant contribution for the promotion of new and more inclusive learning environments that reach out to disadvantaged and non-traditional learners and contributes to strengthening the social dimension of European higher education systems". He continues: –  Portuguese-Finnish cooperation is very relevant also for preserving European diversity of higher education together with promoting a common European vision and values towards a strengthened European identity among youngsters and citizens has become a unique challenge for policy making in higher education throughout Europe. It requires promoting synergies among regional, national and European instruments and policies. The goal is to guarantee the necessary skills and competences among learners fostering different European and global cultures, in different languages, and across borders, sectors and academic disciplines. 

Minister Heitor also strengthens that the initiative helps building student-centred approaches, addressing societal challenges and skills needs in Europe by working in partnership and building European knowledge-creating, transdisciplinary and transnational teams of students and academics, together with researchers, businesses, regional actors and civil society actors. In cooperation with their surrounding innovation ecosystems, higher education institutions must be able to prepare students, graduates and early career researchers to profit from the opportunities available and become agents of change for the twin green and digital transformations. 

The key objective of the program is to create a culture and operative practices to enable cross-polytechnic interaction and effective industry-academia knowledge exchange. From the perspective of higher education institutions (HEIs), collaboration with external organizations create new ideas, highlight research needs and create opportunities to initiate new research. From an educational perspective, it improves teaching practices, brings relevant content to teaching, and creates a foundation for the development of students' professional identities and employability. 

Demola Global brings teachers training, award-winning Demola methodology and co-creation management for the polytechnics and participating students and companies.  

– It has been great to follow the development of Demola cooperation in Portugal. The excellent reception of the program proves that it responds to the needs of today and tomorrow. The program brings Finns and Portuguese closer to each other and enhances the role of Finland at the forefront of international innovation powerhouse. It enshrines the goals of the recovery plan of both countries; digital and sustainable transition needs both talents and innovative solutions, says Ville Skinnari, Minister for Development Cooperation and Foreign Trade of Finland.

– Trusting on the co-creation approach has been fantastic. It is expected that this program will have major impact in Portuguese polytechnics strategic cooperation with regional, national, and international companies and organizations. We are facing a paradigm shift promoting pedagogical innovation, reinforcing the industry-academy cooperation, states President Pedro Dominguinhos from CCSIP, the Portuguese Polytechnics Coordinating Council. 

The strong knowledge exchange activities between HEIs and industry highlight the important role of HEIs for regional economic development, resilience, and attractiveness.  

A co-creation method engages higher education institution students alongside the industry to build the future, reform the surrounding society and create innovations that resonate with the values of the next generation, says CEO Ville Kairamo from Demola Global. 
For more information, please contact: 

Ville Kairamo 
CEO                            
Demola Global             

+358405667182           
ville@demola.net          
/
Pedro Dominguinhos 
President 
Coordinating Council of Portuguese Polytechnics
+351265548820
presidente@ips.pt   

See all stories
Basic information
Type
Articles
Date of publication
22/09/2021
Created by
Demola Global
Sharing is caring!
Share this event with anyone you think would be interested.