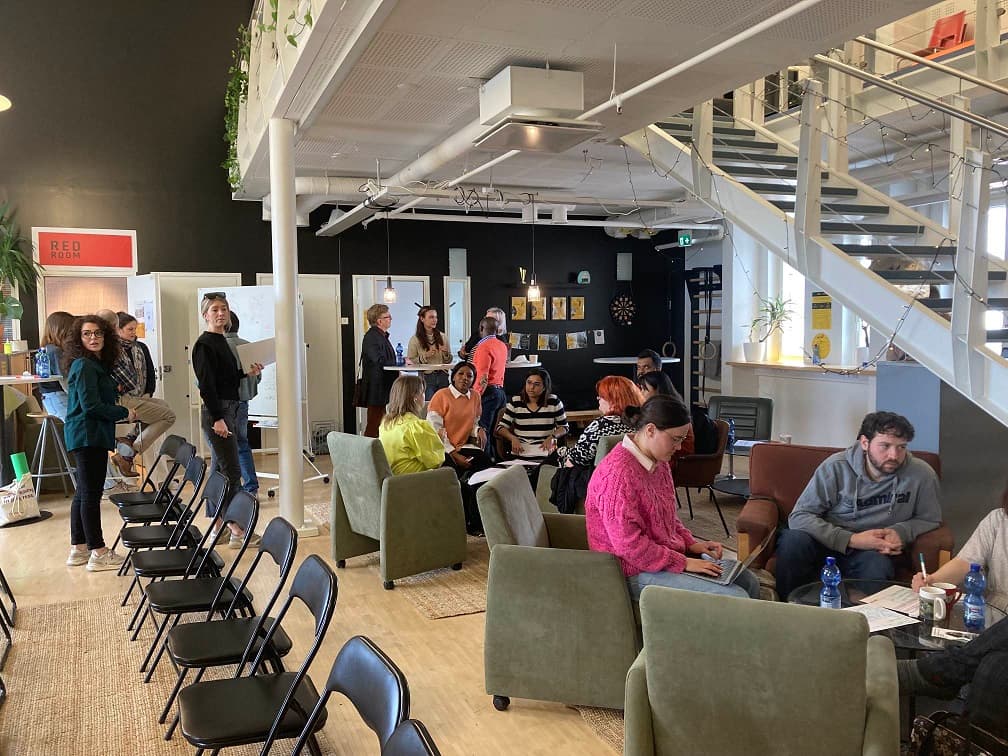 The City of Tampere and Demola Speeding Up the Local Innovation Ecosystem Together
This spring, Demola has restarted its local operations in Tampere after many years. The multidisciplinary student teams that started in March worked intensively during the spring on future challenges and opportunities. The City of Tampere and Demola work together to speed up the nnovation ecosystem and internationalization of Tampere.
In March, 11 new co-creation projects were launched in the premises of Platform6 in Tampere, where teams consisting of university students together with experts from Demola, with the help of local operators, strive to understand the future and its phenomena.
The projects aimed at bold visions of the future dealt with, among other things, developing a more sustainable Tampere, digital identities and the development of democracy.
"The focus of this cooperation is that the city wants to accelerate and increase the birth of new startup companies in Tampere. We believe that the more future experts from different fields team up and plan together, the greater the chance that they will also work together outside of the project and develop business activities together. Of course, this doesn't happen every time, but we want to encourage students to take this opportunity," comments Timo Antikainen, Business Director of the city of Tampere.
A total of 48 students from Tampere University and Tampere University of Applied Sciences worked in the teams this spring.Internationality and multidisciplinarity are central factors in all of Demola's activities, because future innovations and the freshest possible perspectives are born in a diverse environment. The Tampere spring teams had students from no less than 20 different countries, from at least ten different faculties.The students came from the faculties or fields of study of educational sciences, health sciences, political research, journalism, architecture, materials technology, social sciences and business administration, among others.
Aleksandra Akmaikina, a Master's degree student in the Public and Global Health degree program, took part in the Demola project for the third time this spring. "I feel that my skills have developed at Demola, and I enjoy how freedom of thought and expression prevails in the working culture without limiting factors," says Akmaikina. Sofia Kasari, a Master's degree student in the Sustainable Digitalization degree program who worked with Akmaikina on the same Demola project, commented that she came to Demola to work in a multidisciplinary team and develop real-life solutions together with external stakeholders. "I wanted to be able to practice both the entire design process and how to present novel ideas attractively, from a business-oriented perspective. And Demola has delivered!"
 Opiskelijat Aleksandra Akmaikina ja Sofia Kasuri
The activities of the local teams in Tampere are connected to Demola's wider international network. This spring too, more than 200 international student teams worked around the world both online and in Scotland, Namibia, Latvia, Japan, Hungary and Portugal, among others. Weekly theme-specific meetings between teams working in different parts of the world gave the teams more perspectives and tools.
As part of the innovation activities of the city of Tampere, Demola is involved in the development of inspiring, concrete activities, the aim of which is to bring together Tampere companies, universities and public sector actors. "Our expectations regarding the continuation are high, and we strongly believe in the skills of the young people of Tampere. We want to be in every possible way to support the further paths of student teams as well. This kind of activity must be long-lasting. Our common goal this year was to assemble ten local student teams, and that goal was exceeded," states Irene Impiö, Director of Growth Services of the City of Tampere. Now that Demola has returned to its roots in its hometown of Tampere, it and the city of Tampere have a joint goal of enabling a hundred university students to participate in projects and the further development of the ideas generated during them.

Sharing is caring!
Share this event with anyone you think would be interested.